Following 2011 we all had hope. Matthew Stafford, quarterback for the Detroit Lions, was a 23-year-old hotshot coming off his third year breakout. Dynasty leaguer eyes were on him, with his 41 touchdowns only falling behind the legend Drew Brees, and MVP Aaron Rodgers. At the time, Dan Marino was the only player to do it at a younger age. To this day, only Patrick Mahomes has passed him.  Stafford was a god, along with his trusted wide receiver companion Calvin Johnson.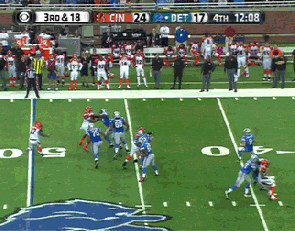 As we waited for his eruption to grace us with massive fantasy outputs, analysts and enthusiasts couldn't help but to bring up the comparisons to the greats who gave us massive fantasy seasons. The question being asked wasn't if he will ascend, but rather, is he already there?  
With some stats being relatively new at the time, we didn't put enough weight on them and most got swept under the rug. There was one fatal stat for quarterbacks that we needed to pay far more attention to: adjusted yards per attempt (AY/A).  It is more than just yards per attempt: it incorporates big gains, sacks, interceptions, touchdowns, and yards. 
(PASSING YARDS – SACK YARDAGE + (20 × TOUCHDOWNS) – (45 × INTERCEPTIONS)) / (PASS ATTEMPTS + SACKS) 
Stafford, even in this amazing season, couldn't get over 8. The Lions front office loved to gift him receivers but completely neglected to address the offensive line woes. Lack of time in the pocket for this pocket passer led to sacks, quarterback hits, and interceptions. Hits led to injuries and pains that have plagued him throughout his entire career, forcing him to do what any person would naturally do: get rid of the ball. This has led to him hovering around a 7 in adjusted yards per attempt, which is subpar at best. 
Playing with a fractured tailbone in 2018, Matt Stafford had one of his worst yards in AY/A. At 6.2, he struggled to finish as a top performer in almost every metric. The ones he did: fourth in intercept able passes, third in dangerous plays, and he led the league in dropped passes by receivers.  
In the offseason leading up to 2019, Matt Stafford figured to be on his way out. Matt Patricia, head coach of the Lions, wanted to reshape his offense so he brought in former Seahawks offensive coordinator Darrell Bevells. Bevell oversaw Russell Wilson's development since coming into the league. Under Bevell, Wilson's accolades are noticed throughout the league even from an early age, achieving multiple awards, Pro Bowls, Super Bowls. A large part of Wilson's success can be attributed to Bevell's system, allowing him to obtain 7.8 AY/A throughout his career, a mark Stafford has only hit once.  
With the addition of Bevell while owning the eighth overall pick, there was speculation the Lions wanted to get "Patricia's guy" at quarterback. It made perfect sense for the timing. The Vikings were positioned to make a jump, the Packers hired head coach Matt LaFluer and signed some major free agents, and the Bears were coming off a 12-4 season in which they had seven Pro Bowlers. Everyone figured they could even still get a first round pick for Stafford from a team like the Dolphins. Patricia didn't bite. He stuck with Stafford in this new offense and pushed all his chips to the table. To an extent, it worked. Prior to Stafford's injury the Lions were 3-4-1 and the offense was humming, putting 23 or more points in all but one game. If the defense was better, the Lions would have been far more competitive.
Matt Stafford was crushing opposing fantasy teams, averaging the fourth most points per game at quarterback. He was second with 8.6 AY/A and led the league in adjusted yards per target - which eliminates throwaways - with 9.2, putting the year before of 6.2 to shame. During this time, Lions' wide receiver Kenny Golladay was 10th in fantasy points per game while Marvin Jones Jr., was 14th. Lion's running back Kerryon Johnson was an RB2, while barely sniffing a 70% snap share. Stafford's 14 money throws, which PlayerProfiler.com classifies critical throws in clutch situations, ranked him third for money throws per game which is extremely helpful considering his supporting cast was ranked 22nd in the NFL.  
In other words, Stafford was that offense. After Stafford went down, Golladay dropped four points per game, knocking him down from top 10 to back end WR2 while Jones Jr. only saw one game with over 50 receiving yards before getting injured. There was no offense without Stafford. 
Now looking back just a few months ago, the whispers started again, "The Lions are going to draft a quarterback!", "Matt Stafford is done!", and for the second straight year Patricia pushed his chips to the middle of the table.  Instead of chasing a quarterback in the draft, they acquired D'Andre Swift in the second round, arguably the best pass-blocking running back in this class. Along with Swift, Detroit drafted Ohio State guard Jonah Jackson in the third and Kentucky guard Logan Sternberg in the fourth. All of those picks and the addition of former Eagles offensive tackle Halapoulivaati Vaitai were focused on protecting Stafford. Throw in Wisconsin wide receiver Quintez Cephus and you have an offense set up to surpass Stafford's efficiency from last year. 
The current value of Stafford, Swift, Hockenson, Jones, and even Golladay is lacking tremendously. The chemistry showed in 2019 was far superior to anything we've seen since Calvin Johnson, so you had better believe I am buying shares of that offense every chance I get.