The Washington Redskins made the decision to draft Dwayne Haskins with the 15th pick in the 2019 NFL draft. Quarterbacks Kyler Murray and Daniel Jones went before him. Notably, the New York Giants seemingly passed on Haskins in order to draft Jones, a move which was publicly mocked as a poor decision. Fast forward to Week 10 of the season and we now see Daniel Jones starting for the Giants for the past seven games, while Haskins earned his first start in Week 9. Seeing Jones' struggles and successes, I wanted to take an in-depth look at how Haskins has fared at the professional level.
Using All-22, I went through Haskins' second half replacement of Case Keenum against the Vikings in Week 8, as well as his start against the Bills in Week 9. Let the worrying start with me.
---
Simply deciding to omit his three-interception performance in Week 4, I jumped into the All-22 of his second half appearance against the Vikings. Newly appointed head coach Bill Callahan has made it public knowledge he believes the running game is the key to victory. Haskins entered the game trailing 13-6, a winnable game. Throughout the second half, he only attempted five passes, completing three of them, while throwing a costly interception.
This interception was worrisome mainly due to the fact Haskins had protection, made the correct read, anticipated his wide receiver Terry McLaurin breaking his route, and then tried to place the ball instead of instinctually reacting to the opportunity.
---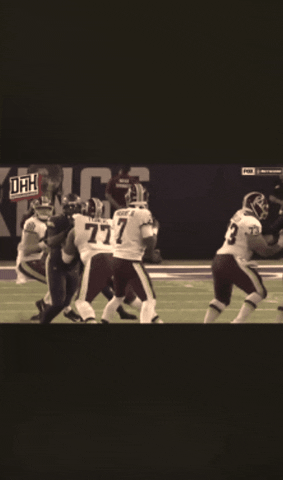 ---
The video shows Haskins drop his elbow and appear to take velocity off of his throw in an attempt to hit his target. Instead of improving his accuracy, this led to the ball getting to McLaurin at an elevated level, putting the receiver at risk of a big hit, as well as leading to the interception.
The rest of his second half performance can basically be summed up by feeding Adrian Peterson, lacking patience in the pocket, and missing opportunities.
Haskins's first start of the year came against the Buffalo Bills in Week 9. The game plan was clearly built around Peterson tallying as many carries as possible while hoping Haskins could manage the game.
The first half of the game was used to get Peterson involved while also attempting to have Haskins make simple throws to help him find a rhythm. What became clear is Haskins was only able to complete three-step drops where his first read was open. This meant there was no thought, no improvisation: hike the ball, take three steps backward, and fire the ball to the main target. While this allowed him to pad his completion stats, it ultimately led to Haskins missing deep options which could have turned into scoring opportunities. It also leads me to the presumption that head coach Callahan has little trust in Haskins ability to make correct decisions. Making matters worse, when a passing play was called and potential pressure was shown by the Bills, Haskins would immediately attempt to force a pass or scramble out of the pocket.
Going into the second half trailing 17-6, the game was still in reach. Peterson had already been given 13 carries through the first half, but like most NFL teams, the Redskins needed their quarterback to step up. Unfortunately, Haskins was not able to provide the firepower. Offensive coordinator Kevin O'Connell called several forced screenplays, clearly due to Haskins' inability to create, which were stopped nearly immediately because of the sheer predictability of the play calling. 
The rest of the second half is more of the same. While I could bore you with miserable play calls and poor execution, I'd like to attempt to tie a bow on this malfeasance people like to call the Redskins' offense. Haskins made one good, professional level pass the entire game. One. It came late in the third quarter following good field position, starting on the Bills 35 yard line. It was 2nd & 13, the Bills were playing man coverage with a single high safety. Like every pass play O'Connell calls, every single receiver runs the same route - a ten-yard buttonhook (receiver runs ten yards forward, then stops and turns towards the quarterback). Haskins looks through his two receivers on his left-hand side, sees tight coverage, and then proceeds to work his way right, ending on Paul Richardson as his fourth read. This is the lone completion which reminded me I was watching an NFL quarterback.
I go into such detail for this play because it was the lone bright spot for Haskins in six quarters of football. For six quarters, Callahan and O'Connell worked around Haskins, running the ball, calling screen plays to his running backs and wide receivers, basically doing everything they could to keep the game out of Haskins' hands. In comparison, Jones and Murray had successful first starts for their respective teams where they were trusted to lead their offensive approach. Jones' first start consisted of a stat line of 23/26 for 336 yards and two touchdowns in a victory over the Tampa Bay Buccaneers, while Murray's first start looked like 29/54 for 308 yards, two touchdowns and an interception.
I do understand Haskins is young and inexperienced, but in a league where quarterbacks are cherished, drafted, thrown into the fire, and then thrown out with the garbage - Haskins is not long for this league.