We still have several more weeks of the NFL left, but with fantasy championship week behind us, it's time for full-on draft degeneracy. The Reese's Senior Bowl is the main event which really kicks off #DraftSZN. Let's preview two of the wide receivers who accepted their invites: Michael Pittman Jr. (USC) and Denzel Mims (Baylor).
Michael Pittman Jr.
Pittman (6'4", 220) entered USC as a highly-touted recruit. 247Sports' Composite Score had him as the 59th-ranked 2016 recruit nationally, coming in as the 8th wide receiver across the US. After quiet freshman and sophomore years, Pittman flashed his junior year. Among receivers with at least 40 receptions, Pittman had the sixth-highest yards per catch at 18.5 (41/758). His senior year performance ended with him as a Fred Biletnikoff finalist, given to the nation's best receiver, with a stat line of 95 catches for 1,222 yards and 11 scores. His catches and yards ranked third and seventh, respectively, across the NCAA. The most impressive thing about his senior year production is he had to deal with three different starting quarterbacks in 2019. 
The only exposure I've had to Pittman up to this point have been his 2018 game against UCLA and 2019 against Utah (props to the What's On Draft database). I'm not ready to make any final evaluations on him, but I'm definitely excited to see more. Even with these limited looks, a couple of things stand out when watching him. First, his ability to vary his speed within his routes to deceive cornerbacks and blow past them shows up often and is quite effective. On these deep routes, Pittman is able to track over-the-shoulder throws very well. In jump-ball scenarios, he times his jumps perfectly and is able to use his frame to box out defenders, preventing them from making a play on the ball. The clip below shows his ability to get vertical, time his jump, and then use his speed and frame to find paydirt.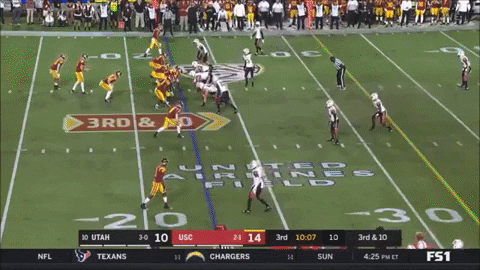 Denzel Mims
You're not going to find Mims (6'3", 215) as a highly-ranked recruit or atop of national leaderboards like Pittman, so his intro won't be near as lengthy as Pittman. One thing Mims does have on Pittman is production. Over the course of their collegiate careers, Mims edged out the USC product with a line of 181/2,850/27 (15.7 yards per catch) to 165/2,466/19 (14.9 YPC). While Pittman had to deal with a trio of young quarterbacks, Mims committed to Baylor during a time of complete turmoil as the program's scandal came to light in 2016.
Right off the bat, I noticed Mims' body control and hand strength. When you compare other bigger-bodied receivers, Mims has technicality and nuance to his route running that dudes of his size typically aren't known for. He mixes up his releases off the line of scrimmage and uses his hands well to defeat jams and keep his body clean. Something which surprised me about Mims' game was his ability after the catch. Mims can use both elusiveness and strength once the ball is in his hands to pick up additional yards. This play is from the 2019 Texas Tech game and is a ridiculous example of his body control/awareness and his ability to catch the ball with his arms extended, away from his chest.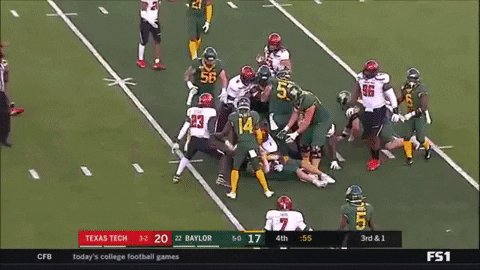 The wide receiver roster for the 2020 Senior Bowl is truly something to be excited about, and Pittman and Mims are two of the reasons for it. Keep checking back as I'll be going through the rest of those who have accepted invites over the next month.