Miles Sanders quietly put together a solid 2018 campaign in his junior year and not many are mentioning it. After sitting behind Saquon Barkley for two years, Sanders took over as Penn State's workhorse. Given the circumstances around him, discussed below, he performed very well. In the 2019 NFL draft class which has only a handful of true three-down running backs, Sanders could provide dynasty leaguers value if the chatter stays quiet. Let's break down his profile and see where the value lies.
BACKGROUND
Sanders was no stranger to recruiting hype as he finished his high school career at Woodland Hills in Pittsburgh, Pennsylvania. 247Sports and Rivals both listed Sanders as a four-star recruit, the number one ranked running back in the 2016 recruiting class, and a top-40 national prospect. Sanders quietly waited in the ranks as Saquon Barkley became a national phenom and every dynasty player's dream, but showed splashes and promise whenever he did get an opportunity. He finally got his chance to be the lead back at Penn State in 2018 and Sanders didn't disappoint, all things considered. Trace McSorley had his worst year statistically as the starting quarterback with a lackluster receiving group, the offensive line was - as always - an issue, and their play calling was predictable at best. Despite these roadblocks, Sanders put up 1274 rushing yards on 220 attempts (5.8 yards per carry) and 9 rushing touchdowns. He had solid receiving production as well, snagging 24 balls for an additional 139 yards. His 220 carries accounted for nearly 43% of the Lions' rush attempts, and his 24 catches were just under 12% of the team's receptions.
TAPE
The first thing which jumps out to me from Sanders tape is his patience and vision at the line of scrimmage. His feet are always active as he scans the field looking for his lanes and is able to hit them quickly and accelerate upfield. This run against Indiana shows all of these traits.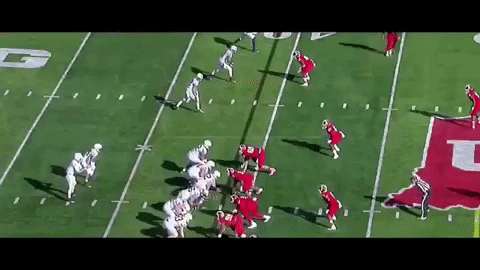 Speaking of active feet, check this play against Wisconsin. Sanders keeps his feet moving as he looks for a crease to hit for the first down. He bounces along the line, dodging falling linemen. Finally, he gets outside and gives us his best Barkley-esque hurdle.
Sanders won't "wow" you with his athleticism or explosiveness, but he has enough of each to be able to create extra yards for himself. Here against Illinois, he uses his footwork and vision to set up the linebacker with a jump cut back inside. Once he hits the second level, he forces the safety to miss with a juke step, and finishes off the run with a spin move to pick up a couple of extra yards.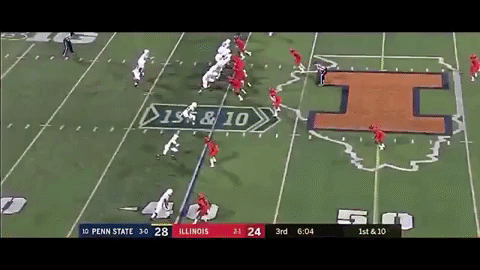 Sanders didn't have gaudy receiving production like his predecessor Barkley, but he showed enough to make us confident in his abilities moving forward. In another clip from the Wisconsin game, Sanders is lined up in the slot and gets a free release into the flat from a pick route. He does a good job of catching the ball out in front of his chest and transitions from catching the ball to becoming a runner smoothly.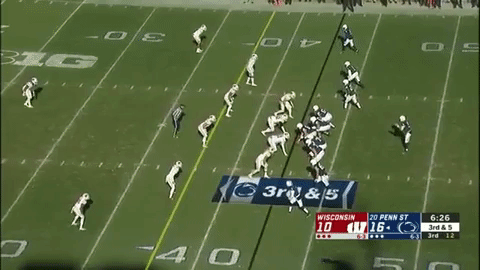 Finally, Sanders' awareness of down and distance/game situation is the best out of the running backs I've watched so far. Rarely do you see him hesitate behind the line of scrimmage in short-yardage situations. In fact, I would like to see this aggressiveness from Sanders more often. We have a 2nd-and-1 against Pittsburgh from 2018. Sanders uses his vision to find a crease and immediately plants his foot and bursts through the line to pick up the first down.
SUMMARY
While Miles Sanders doesn't exhibit any one elite trait, he is really solid at everything and has no real holes to his game. The traits which stand out the most - vision, footwork, and patience - all translate to the next level. Sanders also does a great job of reading his blocks and making moves away from the defender's leverage. Although he lacks high-end top speed and burst, these three traits in combination with his production in suboptimal circumstances have me convinced he'll be a contributing piece of an NFL offense. I think there is room for growth in his game due to his limited game experience, so he could benefit if he sits behind an entrenched veteran running back. I don't foresee Sanders blowing up the NFL combine, so he should stay in the second round of upcoming dynasty rookie drafts.

2019 Rookie Running Back Ranks (with profile breakdowns)
David Montgomery
Miles Sanders
These ranks only reflect the players that I've watched so far. As I continue to add profiles, I'll update these rankings with each new article. Let me know what you think by hitting me up on Twitter or dropping a comment below!
rticle Content Here.