I love breaking down players and finding what they do well, and what they shouldn't be asked to do. My favorite, however, is when those evaluations are simple and straight forward. Enter Deebo Samuel. After just a few games, what Samuel does well and how he'll succeed at the next level is crystal clear.
BACKGROUND
Samuel wasn't a highly recruited prospect coming out of Inman, South Carolina. Both Rivals and 247Sports' Composite Rating had him listed as a three-star recruit and outside of the top-50 receivers. One of the reasons Samuel flew under the radar was he didn't play receiver until his junior year of high school. Up until then, he was a defensive back and also played some running back on the other side of the ball. Per 247Sports, Samuel received nine offers, though South Carolina, North Carolina, North Carolina State, and Vanderbilt were the "top" programs. Ultimately, Samuel chose to stay close to home and committed to a team he grew up rooting for.
A few injuries held Samuel back from truly racking up yards each and every year for the Gamecocks. He only appeared in five games (started three) his freshman year due to a hamstring injury suffered in the 2015 season opener. He was limited to just three games his junior year after suffering a broken fibula in his right leg after being awkwardly tackled. In the two years he played a full slate of games, Samuel was top-eight in both receptions and yards in the SEC. In 2018, he was second in the SEC in touchdown catches (11).
*Courtesy of College Football Reference.
Samuel also tested fairly well at the NFL Combine. Per 3 Sigma Athlete, his composite scores place him as a 76th-percentile NFL athlete. Below is his spider graph, via MockDraftable.
TAPE
When you watch Samuel, his strengths are clear - quick feet at the line of scrimmage, crisp and sudden route breaks, and yards after the catch. For a smaller receiver (5'11" and 214 pounds), Samuel is physical at the catch point and can be a handful to bring down.
This first clip from 2016 against Tennessee shows his ability as a route runner and how he's able to make contested catches despite his size. Samuel does a great job of selling a vertical route and getting the corner to open his hips towards the sideline. He then crosses back across the defender's body, using his hands to clear the corner's arm to keep his chest clean, and gains inside leverage. Samuel then finishes off the catch by high-pointing the ball and coming down with the ball, even though the corner has his arm in a disruptive position all the way to the ground.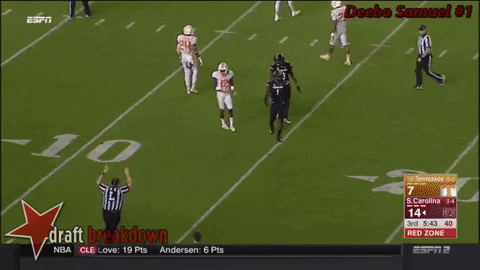 From the same game, contact throughout his route stem doesn't bother him (at the line of scrimmage is a different story, however). The corner is hanging all over Samuel as he's trying to streak down the sideline, which draws a defensive pass interference call. Samuel never breaks concentration and is able to snag the ball with one hand.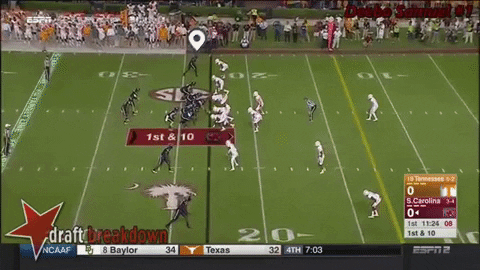 Although those two previous clips came with Samuel lined up on the outside, his best spot will come from being lined up in the slot where he can dominate the middle of the field. Against Florida in 2018, Samuel snaps off a slant route and makes the catch with defenders surrounding him. He's comfortable with defenders closing in on him and through the several games I watched, I never saw him short-arm a catch.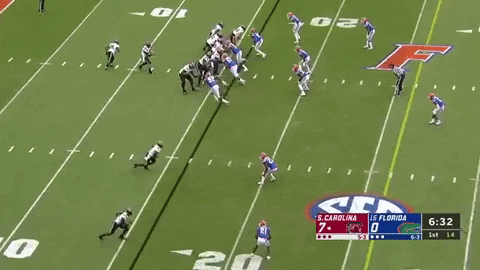 If you leave the middle of the field open against Samuel in this same scenario, it will be like trying to french fry when you're supposed to pizza - you're gonna have a bad time.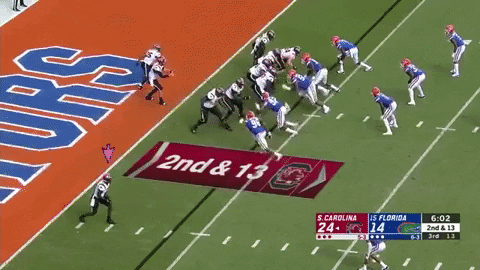 The biggest concern I have with Samuel heading into the NFL is struggling against physical press corners. As noted earlier, if he can release off the line of scrimmage and get into his route stem, he's fine. The issue is when he gets jammed and pressed within his first few steps. This clip against Clemson in 2018 shows exactly that. The corner gets to his chest right before Samuel breaks upfield and slows him down. This allows the corner to stay stride for stride with Samuel and pin him to the sideline.
SUMMARY
Deebo Samuel is a perfect fit as a slot receiver or lined up outside at Z at the next level. He's shown the ability to play on the outside and has at times been successful beating press, but slot and Z would give him space to release freely off the line and get into his route stems. I would love to see him land with an offensive coordinator who will move Samuel around and also use him out of the backfield on sweeps and pop passes, something he had experience with at South Carolina. Samuel is creative after the catch and will fight for extra yardage; something that will serve him well as he's roaming the middle of the field. Samuel will be a day two NFL Draft selection and - depending on which team nabs him - he could find himself in the first round of your dynasty rookie drafts.