Imagine this: You hadn't been paying attention to the 2018 collegiate season and you start reading some mock drafts to catch up on the 2019 rookie class. There's this Josh Jacobs cat in every article and always in the first round - going as high as number five overall. "This dude must have a crazy production profile!", you say to yourself. Off to College Football Reference you go and...not so fast, Lee Corso. Jacobs' best season was 120 carries for 640 yards? Huh? Is this just another case of an Alabama player being thrust up draft boards because of their primetime spotlight? Let's #CheckTheTape.
BACKGROUND
For as much hype as Jacobs is getting now, his hype as a recruit was nonexistent until right before he actually committed to Alabama. He was a zero-star recruit, per Kyle Francis and his thread on Jacobs and his background story. He legitimately had no FBS scholarship offers until two months out from National Signing Day which came from the perennial powerhouses of Wyoming and New Mexico State. Fast-forward two years and he's receiving the MVP award after the National Championship game against Georgia. A year later, he's vaulted up NFL draft boards and is many draft and fantasy analysts' RB1. Let's look at his aforementioned production profile.
| | | | | | | |
| --- | --- | --- | --- | --- | --- | --- |
| YEAR | RUSH ATT | RUSH YDS | RUSH TDs | RECEPTIONS | REC. YDS | REC. TDs |
| 2016 | 85 | 567 | 4 | 14 | 156 | 0 |
| 2017 | 46 | 284 | 1 | 14 | 168 | 2 |
| 2018 | 120 | 640 | 11 | 20 | 247 | 3 |
His best statistical season came in 2018 where he handled 120 carries (21.3% of Alabama's rush attempts) for 640 yards. His sophomore season can be explained away by his dealing with a hamstring injury at the beginning of the year and then playing on a broken ankle for the majority of the year. He has one 100 yard rushing game through 40 collegiate games. In just three of his games has Jacobs toted the rock 15 or more times. I know. It's Alabama and they're stacked. I get it. Regardless, his production numbers alone leave you wanting a lot more for a seemingly locked-in round one NFL selection and a top-half dynasty rookie pick.
TAPE
The Jacobs hype lives here. He absolutely shows flashes of being a three-down, workhorse back and his traits and abilities fit perfectly for today's NFL. He has a great blend of size, power, and athleticism at 5'10" and 216 pounds. Jacobs gets upfield in a hurry, never hesitating or dancing behind the line as he attacks running lanes. He's able to cut on a dime, accelerate quickly, and will drop his shoulder pads and run defenders over. He really does have it all.
In this first clip against Mississippi State in 2018, Jacobs takes the snap out of the Wildcat formation and runs over the linebacker waiting for him in the hole. After Jacobs gets through him, he proceeds to knock back the defensive back three yards as another defender is tackling him. Jacobs is a physical runner and you see runs like these all over his film.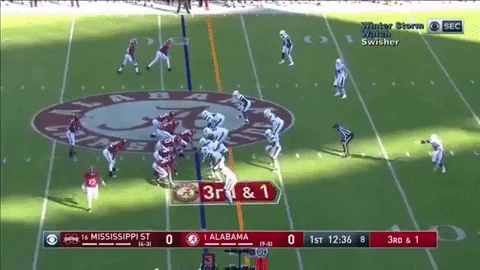 From the same game, we get to see a couple of Jacobs' traits in this clip. He shows good vision at the line of scrimmage, uses a jump cut to get to the open hole, and then shows off more of his strength to fight through a few tackles. What should have been a one-yard gain turns into an eight-yard gain and a first down.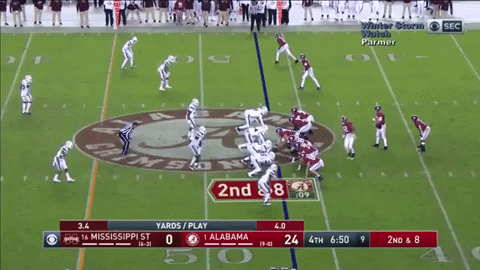 In his freshman season against Kentucky (2016), we got a glimpse of things to come with this catch. Directly after securing the catch, Jacobs reverses his body's momentum to make the first defender miss, gets met by another defender almost immediately only to make him whiff, and makes one more defender whiff for good measure on his way to a 23-yard gain. For a bigger back, his balance, agility, and change of direction mirrors that of a running back 15 pounds lighter.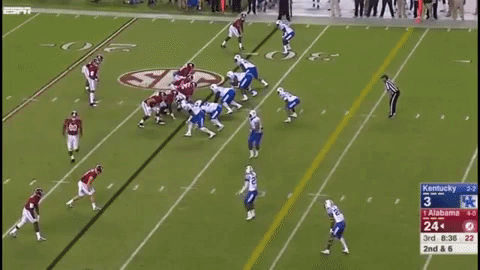 Speaking of Jacobs receiving ability, here are two clips showing him making catches that can be difficult for some wide receivers to make due to the adjustments that have to be made while the ball is in the air.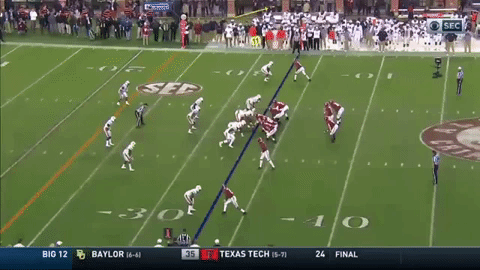 This is a really good job by Jacobs to flip his head and relocate the ball in the air. The moves he makes after the catch for the touchdown is the cherry on top.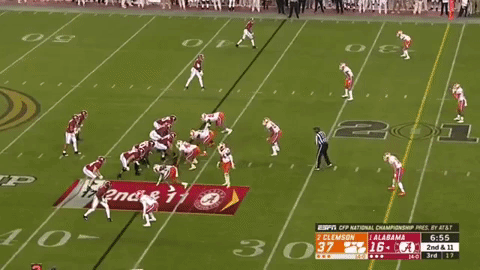 I love Jacobs taking off here after Tua starts to scramble and the linebacker closes in on the route in the flat. Jacobs shows nice fluidity in his hips to turn and make the back-shoulder catch.
SUMMARY
Jacobs will be able to fit both power/gap and outside zone blocking schemes because of the overall traits and skill set he possesses. His vision at the line of scrimmage will allow him to find running lanes in zone schemes, and his north-south running style combined with his physicality also suits gap schemes. Add in his agility, quick burst, and receiving ability, and we're looking at a modern, three-down running back. He doesn't have high top-end speed and won't be a "home run hitter", but he has good enough speed and is able to reach that quickly due to his burst and explosiveness. In fact, only four of his touches (3%) went for 20 yards or more in 2018, per Expand The Boxscore. The only other gripe I have with Jacobs' tape is his open-field vision/spatial awareness. Once Jacobs gets to the second level of the defense he tends to get tunnel vision which has opened him up to some bigger hits and limits extra yards he could be gaining (you can see this at the end of the first clip). Given his lack of production in college, there's absolutely a projection and assumption you're making to the next level. You also have to take into consideration he's playing at Alabama, where he's running behind what amounts to an NFL offensive line and practically every running back there has some level of success. Barring some unforeseen circumstance, Jacobs is absolutely going in the top-half of dynasty rookie drafts. This will provide dynasty players with an interesting case study of #FilmGrinders versus #StatNerds.