Watching Justice Hill's game tape has been like trying to change my five-month-old child's diaper while he's squirming around - lots of frustration. There are times where he looks super dynamic and has the look of a potential fantasy stud, and there are other plays I wouldn't want anything to do with him until the third round of dynasty rookie drafts. What's his best role at the next level? What can he do for an NFL team? I'm going to try to provide an answer in this article.
BACKGROUND
Hill entered the 2016 recruiting cycle as a three-star prospect according to both Rivals and 247Sports, as well as a top-10 recruit in the state of Oklahoma. Despite that, Hill received just four offers - Oklahoma State University, University of Houston, University of Kansas, and the University of Louisville - before ultimately committing to coach Mike Gundy and the Cowboys. After beginning the first three games of his freshman year coming off the bench, Hill took over the starter role and never looked back. In his ten games as a starter, Hill rushed for 1,053 yards and led all FBS freshman in rushing yards. His sophomore campaign was a continuation of the previous year, as he led the Big 12 in rushing touchdowns and yards from scrimmage. Those numbers landed him on both the Coach's and AP First-Team All-Big 12. Hill's high expectation junior year was cut short by injury, as he left the game against Oklahoma with just five carries and failed to suit up for the final two. He ultimately ended up 70 yards shy of his third consecutive season of 1,000 yards rushing.
*Courtesy of College Football Reference.
If his collegiate production doesn't get you excited, consider this: Among the running backs at the 2019 NFL Combine, Hill had the fastest 40-yard dash (4.40 seconds), the highest vertical jump (40 inches), and tied for the longest broad jump (130 inches). He was on his way to having the best running back combine until he came up lame on his second 40-yard dash.
TAPE
Earlier I eluded to the inconsistencies and frustrations I had with Hill's game film. Let's start off on a positive note and look at how Hill wins.
Hill is a decisive runner, and when there's an opening in the line, he plants his foot and gets upfield fast. Rarely do you see him dance or hesitate behind the line. Here, against Kansas in 2018, Hill shows patience behind the line of scrimmage; as soon as he sees the hole open, he's immediately getting upfield.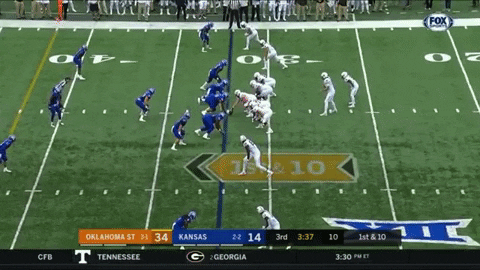 Now in the NFL, he obviously isn't going to have the middle of the field wide open for him to run free as in the previous clip. Against Boise State (2018), he showed he's able to gain chunk yardage with defenders near. Again, Hill scans the line of scrimmage, sees the hole, plants his foot and drives upfield. He also shows some creativity with his running to gain extra yards.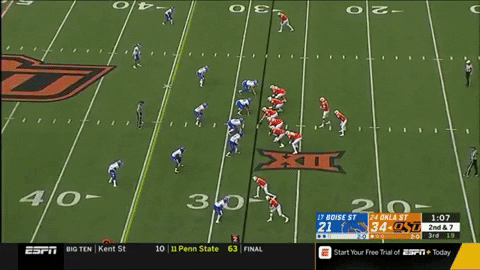 Hill isn't just a straight-line speed guy, either. In another clip from the game against Kansas, he shows his lateral agility and the ability to sink his hips and change direction. I also like how he presses the hole here to get the linebacker to commit, and how he's able to string together a couple moves without losing speed.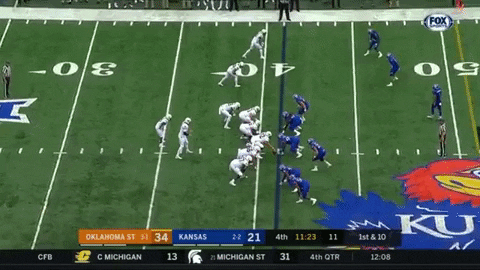 For every instance of Hill flashing every trait you could want in a running back, he has an example showing the exact opposite. In 2017 against Texas Tech, Hill displays a lack of patience and vision which costs him a big play. If Hill approaches the line of scrimmage just a hair slower, he probably sees the left side of the field is wide open, and a simple jump cut would get him there with ease. Instead, he picks the first opening he sees (which closes quickly) and runs into offensive and defensive linemen.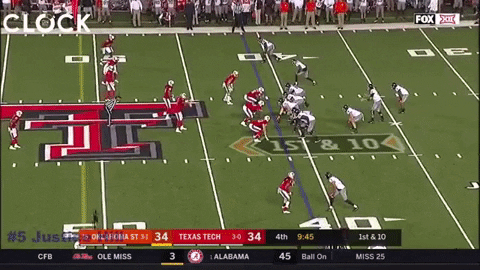 In one last clip from the Kansas game from 2018, Hill again makes me question just how good his level of vision and processing are. The right side of the field is wide open and Hill elects to make a cut to get to the middle of the field and directly into the defensive lineman. Yes, Jelani Brown (Number 90, Kansas) does a good job of shedding the block, but Hill has to be able to read the defender's leverage, or at the very least not make his cut directly into the defender.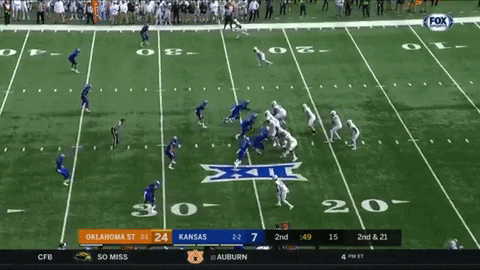 This play also shows a larger issue, which is Hill's lack of comfort with running outside. For a smaller-framed back, I would expect him to be more comfortable in space, particularly outside of the tackles. Whenever Hill does get to the outside, you'll see him commonly make unnecessary juke moves and hesitate, as if he is unable to process what he wants to do next.
SUMMARY
Justice Hill fits best in a gap scheme-dominant run game and will need to land somewhere with a good offensive line which can routinely open holes for him. Hill struggled to create his own yards at the line of scrimmage, so landing spot will be very important for his NFL and fantasy success. If Hill lands in a great situation he'll climb my rankings, as he does flash the ability to be a reliable fantasy asset with his athletic and production profiles. On the other hand, if Hill lands in an offense with a leaky line, he'll be one of the first players I move down my board.
2019 Rookie Running Back Ranks (with profile breakdowns)
Justice Hill